Thanks to everyone who filled out the survey! We heard your opinions and we appreciate that you took the time to provide us with valuable feedback. Your individual comments will assist us to review and further enhance our services.
Library patrons indicated the following four items where there is need for improvement:
Library collection: Browsing new arrivals
A clear and useful access to the Library catalog and website searching tools.
e-Materials and e-Resources: access and location.
Suggesting a title and placing holds links.
1. Browsing New arrivals.
We noticed that many patrons were missing our former method of informing about new arrivals to our Library collection. We heard you and we brought back that old new arrivals tool. We also included the same collection categories we had before the upgrade. The information is automatically updated as it arrives. Please, let us know if you like or dislike the changes. Your suggestions and comments are always helpful! CONTACT US ANYTIME!
2. Clear and useful access to the Library catalog and website search tools.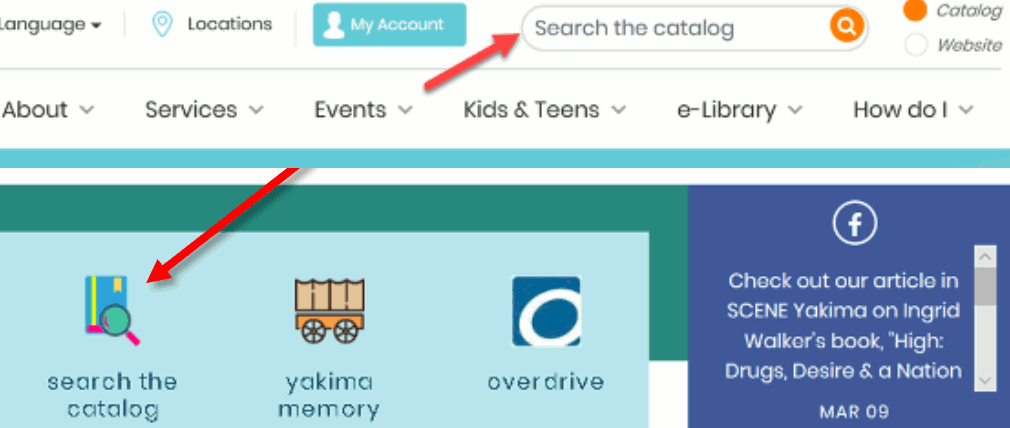 Searching is easier than ever. Find books, e-Books, DVDs, music, programs, and anything else you are looking for. There are two primary ways to start a search. One way is to use the built-in search tool at the top right side of any page (the orange buttons for either search the catalog or search the website). Enter your search terms in the search box and select either the Catalog or Website button choice (catalog will be set up by default). Then, click the magnifying glass icon on the right side of the search box to enter your search. You can also start a direct search in the catalog by clicking on the 'Search the Catalog' link located on our website homepage.
3. Our new e-Library site: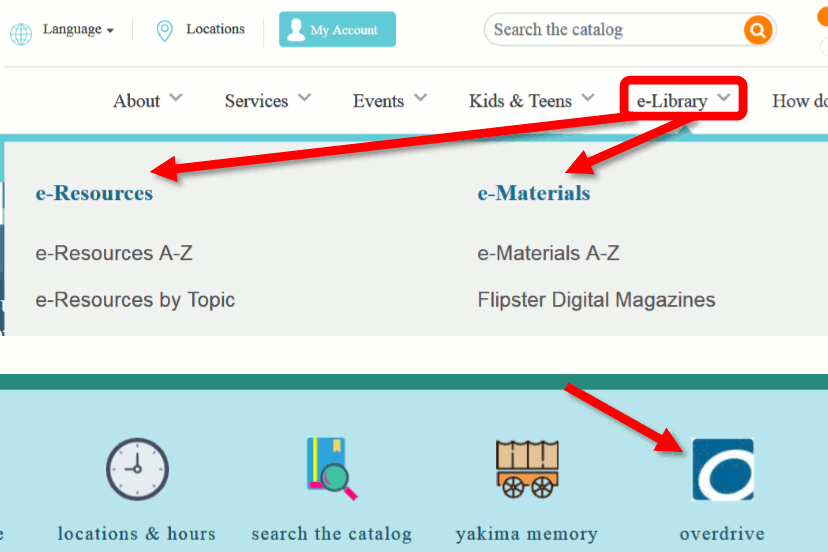 e-Materials (e-Books, e-Audiobooks, digital magazines, streaming video) and e-Resources (research resources and learning tools): access and location. Check out e-Books, e-Audiobooks, and stream videos directly from our catalog using Overdrive, RBdigital, Odilo (Spanish material), TumbleBooks, Project Gutenberg, or Flipster (digital magazines). Access to dozens of research and learning digital resources. Visit our e-Library section for easy access to these materials and resources.
4. Suggesting a title and placing holds links: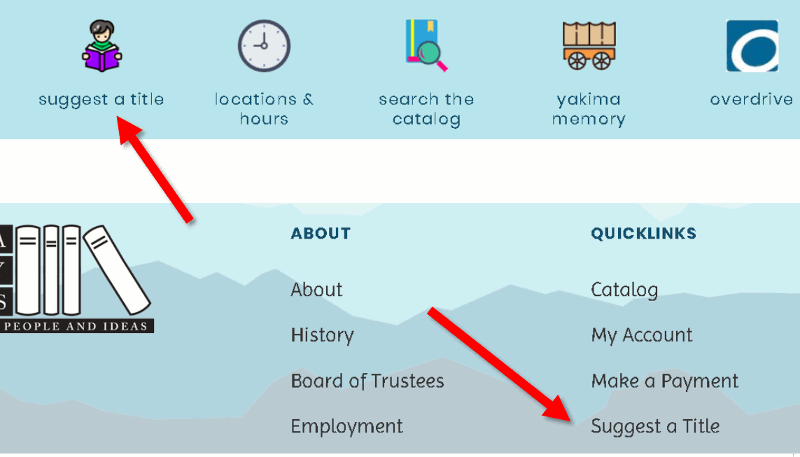 There are several ways to 'Suggest a Title' to add to our collection. The most common ways to suggest new items will be by selecting 'Suggest a Title' either from the homepage or from the website footer (bottom of the page). Once you click on 'Suggest a Title,' you will need to fill out the form and click on 'Submit a Title'. For more information please read our Purchase Suggestion FAQ page. If you would like to place or request a hold, please visit our 'Place or request a Hold' page. You can also access to this information by visiting the 'How Do I?' section –main menu.
We are currently working on a FAQ page where we will list the rest of information according to your questions, concerns, suggestions, and ideas. Stay tuned! Thank you!