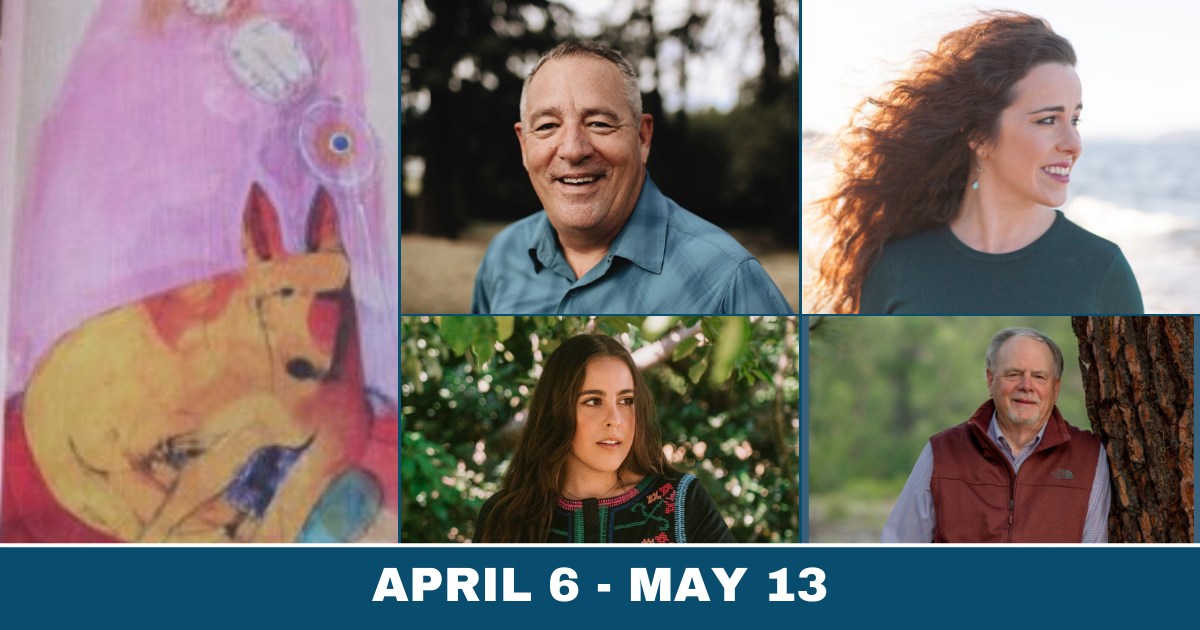 Click here for more information — and to find an event at a library near you.
March 29, 2023
IMMEDIATE PRESS RELEASE
Contact: Krystal Corbray
Programming Librarian
kcorbray@yvl.org
(509) 575-3431
Yakima Valley Libraries' Spring Author Series Begins April 6, Featuring Bestselling Author and History Channel Star, Buddy Levy
 Yakima, WA — Yakima Valley Libraries is pleased to announce the line-up for the Authors Out Loud Spring author series featuring readings, presentations, and book signings by a variety of authors and literary groups.
The series begins on Thursday, April 6, with an appearance by Buddy Levy, best-selling author of "Empire of Ice & Stone: The Disastrous and Historic Voyage of the Karluk," at the West Valley Community Library. In addition to authoring several books, Levy was co-star of the HISTORY Channel's docuseries, Decoded, and appeared as an on-camera expert for HISTORY Channel's series, The Frontiersmen: The Men Who Built America.
Additional Authors Out Loud events will feature local, bestselling author and outdoorsman, Rob Phillips; readings by Yakima Coffeehouse Poets; an author talk and writing workshop with Kristen Millares Young; and two talks by Seattle-based food stylist and recipe developer Andrea Pons.
"Because of the pandemic, our last few Authors Out Loud events were hosted entirely online, so it's exciting to finally be able to come back together, in person, for this program," said Krystal Corbray, programming librarian. "I always try to put together a varied line-up of authors and topics that will hopefully pique a variety of people's interests. I think we have a good line-up this year, so I'd encourage anyone who's been missing our in-person adult programming, or those who haven't attended an author event in past years, to join us."
The complete schedule of 2023 Authors Out Loud events includes:
BUDDY LEVY
Thursday, April 6th,

6:00pm


West Valley Community Library
223 S. 72nd

Ave, Yakima, WA
Buddy Levy is a freelance journalist and the bestselling author of eight books. His work has been featured or reviewed in many major publications, including The New York Times, USA Today, and the Wall Street Journal. His most recent book, "Empire of Ice & Stone: The Disastrous and Heroic Voyage of the Karluk," recounts the harrowing true story of the ill-fated 1913 Canadian Arctic Expedition and the two, vastly different men who came to define it.
ROB PHILLIPS


Tuesday, April 11t

h

, 6:00pm
West Valley Community Library
223 S. 72nd Ave, Yakima, WA
Rob Phillips is a local outdoorsman and nature writer whose debut novel, "The Cascade Killer," became a bestseller. Having written three additional titles in the Luke McCain mystery/thriller series, Phillips took a more personal approach with his most recent book, "A Dog Life Well Lived," a collection of essays and stories about outdoor adventures with his beloved dogs.
YAKIMA COFFEEHOUSE POETS
Saturday, April 15th, 1:00pm
Yakima Central Library
102 N. Third St, Yakima, WA
Back by popular demand! Join us for an afternoon of poetry readings by some of Yakima's finest poets. This event is hosted in collaboration with Yakima Coffeehouse Poets, a non-profit dedicated to supporting and representing poets and poetry lovers of Central Washington.
KRISTEN MILLARES YOUNG
Friday, April 21, 6:00pm
Yakima Central Library
102 N. Third St, Yakima, WA
Kristen Millares Young is an award-winning Cuban American journalist and essayist whose debut novel, "Subduction," was a finalist for two International Latino Book awards. Described as a lyric retelling of the troubled history of encounter in the Americas, Subduction follows a Latina anthropologist who, in fleeing her shattered marriage, takes refuge in Neah Bay, a whaling village on the jagged Pacific Coast.
According to a review in Ms. Magazine, the novel is an "utterly unique and important [examination] of themes of love, intrusion, loss, community and trust, [all set] against a backdrop of the Makah reservation." In addition to being named a staff pick by The Paris Review, "Subduction" won silver Nautilus and IPPY awards, and has received glowing reviews in The Seattle Times, Library Journal, The Washington Post, and Kirkus Reviews, among many others.
ANDREA PONS


Friday, May 12, 6:00pm
Yakima Central Library
102 N. Third St, Yakima, WA
Saturday, May 13, 1:00pm
Sunnyside Community Library
621 Grant Ave, Sunnyside, WA
Andrea Pons is a production manager, recipe developer, food stylist and home cook. Andrea was born in Guanajuato, Mexico, and raised in the United States. Her cookbook, "Mamacita," immortalizes the generational recipes she grew up with while also encouraging readers to sit around the dinner table, enjoy a meal, and create mindfulness around everything from food and its legacy to the immigration process.
All events are free and open to the public. For more information about the authors, and the complete events calendar, visit: www.yvl.org/events/authors-out-loud-series/
#     #     #
It is the mission of Yakima Valley Libraries to support lifelong learning and an informed citizenry by providing free, open, and full access to a vast array of ideas and information.