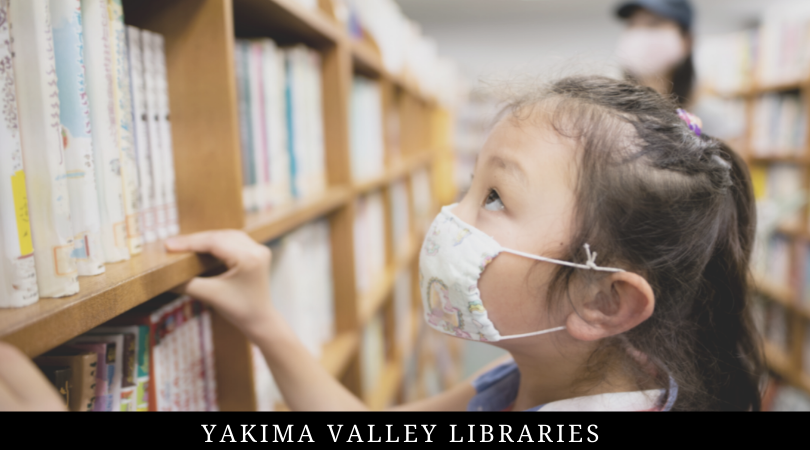 August 23, 2021
Under Expanded State Mandate, Mask or Face Covering Required in All Library Buildings: A Message from the Executive Director
---
On August 18, Gov. Jay Inslee announced an expansion of the statewide mask mandate, which now requires all individuals to wear a mask or face covering within indoor public settings, regardless of their vaccination status.
As such, and effective Monday, August 23, 2021, all Yakima Valley Libraries patrons and staff must wear a mask or face covering that meets or exceeds all of the following criteria:
Fits snugly against the sides of the face
Completely covers the nose and mouth
Must be secured with ties, ear loops, elastic bands, or other equally effective method
Includes at least one layer of tightly woven fabric without visible holes
Children under five (5) years old are exempt from the expanded mask mandate; as are individuals with a medical condition, mental health condition, and/or a developmental or cognitive disability that prevents wearing a face covering.
For more information about the above guidelines, click here to review the amended Statewide Face Covering order issued by the Washington State Secretary of Health on August 19, 2021.
In the meantime, as we shift into compliance with the new masking mandate, we respectfully ask for our patrons' understanding and cooperation.
Finally, as a reminder, to our patrons who prefer not to, or are unable to, wear a mask or face covering in order to visit the library in-person: you can still utilize our contact-free pick up and many digital resources.
For more information about the library's Contact-Free Pick Up service, visit: www.yvl.org/pickup.
For more information about the Library's ongoing response to the COVID-19 pandemic, visit: www.yvl.org/health.
Sincerely,
Kim Hixson
Executive Director