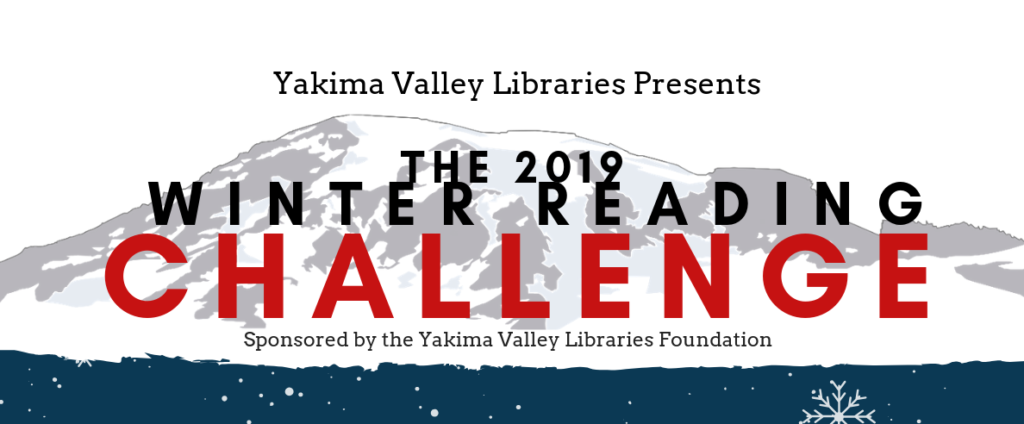 Winter is here! Whether you're curled up inside with a hot beverage, headed to the mountains to play in the snow, or traveling someplace warmer, winter can be a great time to read. With that in mind, adult patrons are invited to join our third annual Winter Reading Challenge!
From January 1 to March 31, grab one of our bingo cards, read, mark off the categories to complete a bingo or a blackout, and get entered to win fun prizes.
---
Program generously sponsored by the Yakima Valley Libraries Foundation with support from Inklings Bookshop.
---
HOW TO PLAY:
1. Pick up a bingo card at your local library or download and print a Bingo card from the YVL website.
2. Pick your books. If you're stumped or would like suggestions, ask your librarian or bookseller, try out our NoveList Plus database, or check one of our online book lists below, specially curated for some of the topics appearing on the bingo cards.
3. Read! (This step is our favorite.)
4. Fill in book titles and authors on your bingo card for a bingo or a blackout.
5. Return your completed card(s) to your local library by March 31st and fill out an entry form for one of several prizes.
6. Tell your friends about the awesome new books you discovered!
---
THE FINE PRINT: You are on your honor to read books before adding them to your Winter Reading Challenge bingo card. Cheating, skimming, or just reading reviews online will invoke bad winter karma which may include sniffles, lack of marshmallows in your hot chocolate, or losing your mittens.