Yakima Memory is a digital project created by Yakima Valley Libraries and the Yakima Valley Museum for children learning about a past they never experienced (Gee Dad, how did you call home with no cell phone?), for students exploring events they can't even imagine, and for researchers looking for pieces of our shared past that we call history.
Memory is the ephemeral heartbeat of past events, but it disappears with the people who lived those events. Digitizing cultural heritage materials can preserve those memories and share them with a wider audience.  It also helps  preserve the content of the original item long past what its life would have been as a physical holding. The Yakima Memory project creates digital copies of  photographs and documents tied to local history, adds metadata information (like where, when and by whom the picture was taken),  and then stores those digital copies where anyone with an Internet connection can access them.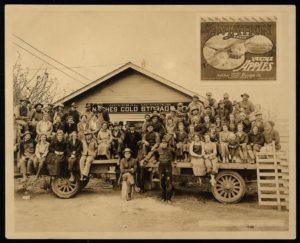 In 1953 author L. P. Hartley  wrote:  "The past is a foreign country; they do things differently there." It is a statement that still rings true. How can someone who has only seen high-density commercial orchards understand what it was like to stroll through a cathedral of blossoms that arched overhead and smelled like roses in bloom? And if that was where you met your love, how could you ever forget?  Yakima Memory is a tool that spans generations, allowing users to search for  documents that can help build a shared understanding of our cultural heritage.