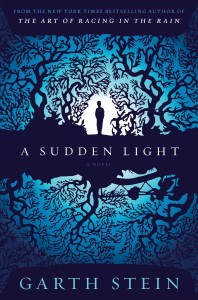 What if everyone in the Yakima Valley was reading the same book, at the same time?
Every year, Yakima Valley Libraries hosts Yakima Valley Reads, a community-wide reading event that encourages adults of all ages to read, discuss, and engage with a single book.
Our selected title for 2018 is A Sudden Light by Garth Stein, best-selling author of The Art of Racing in the Rain.
Join us at events throughout October as we read Stein's story of a once-powerful Pacific Northwest timber family, and the price that must be paid by the heirs as they struggle for redemption. 
---
KEYNOTE SPEAKER

---
FILM SCREENINGS
Watch the Emmy Award–winning documentary, America's First Forest, which tells the story of Carl Schenck, a German forester who came to America in 1895 to manage the forests at the Biltmore Estate in Asheville, North Carolina. While Schenck was originally tasked with over-seeing the restoration of the land, he also established the first forestry school in the United States and helped launch the American conservation movement. 
Film run-time: 55 minutes
PRESENTATIONS
Exploring the Paranormal
Tuesday, October 30th @ 6:30pm
Join us for a fascinating presentation by one of Yakima's most well-known paranormal investigation teams, P.A.S.T. is Present. Members will talk about the history of the group, their investigation methods, in addition to sharing examples of paranormal evidence they've collected, and a demonstration of their equipment.
Tracing Your Family History
Tuesday, November 6th @ 6:30pm
Archive Librarian Terry Walker will share tips, tricks and the many library resources available to help you unravel your family history.
BOOK DISCUSSIONS
Free books available from your nearest community library beginning October 1st, while supplies last.