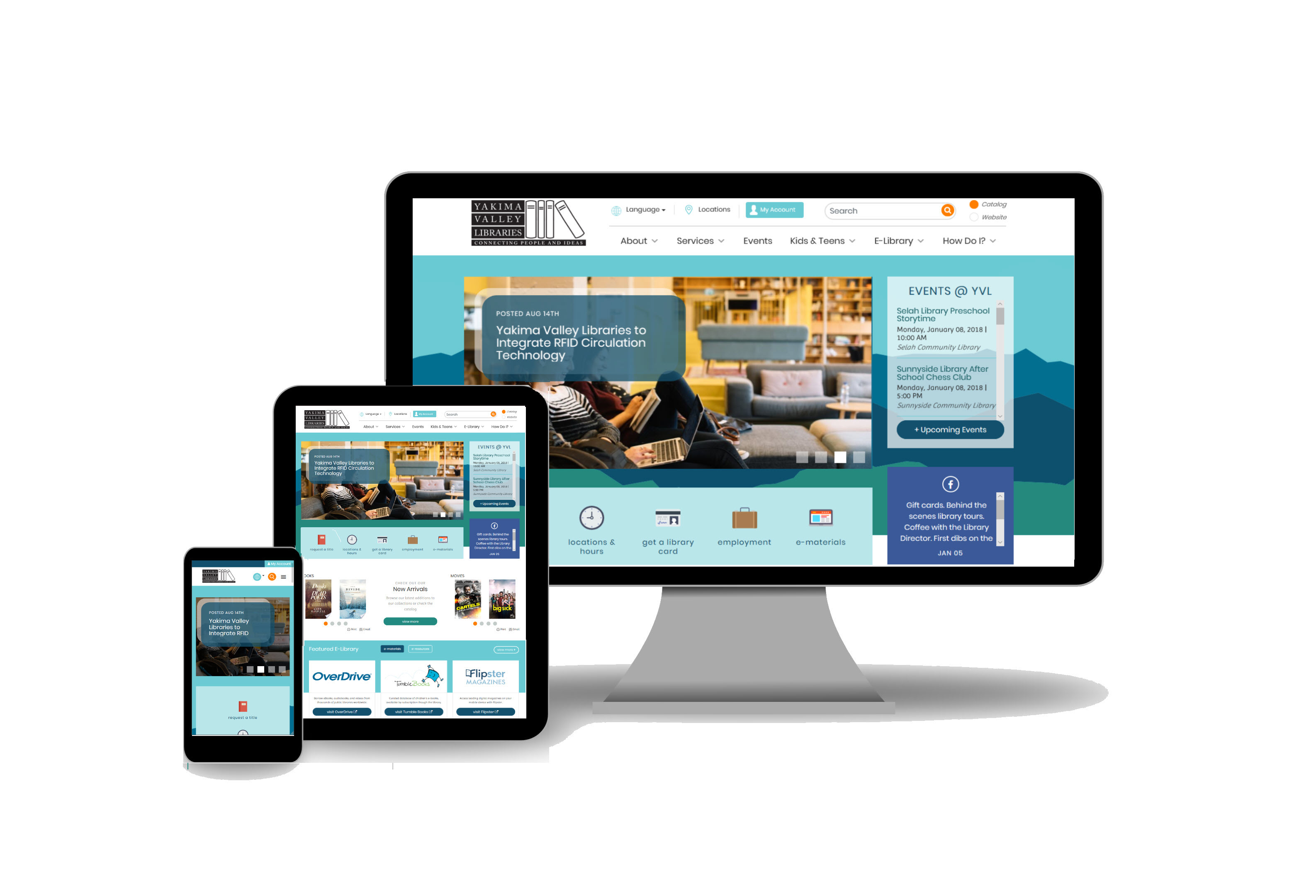 Yakima, WA – The new Yakima Valley Libraries website will launch February 1st.
Beginning in April 2017, library management worked closely with web marketing firm Stirling Technologies to design a modern, updated and user-focused website which we believe will better meet the needs of the Yakima Valley community.
Many elements of the website's design resulted from extensive research, staff and patron feedback, phone surveys, and information gathered through focus groups.
The result of these efforts is a redesigned and enhanced website that features:


Responsive Design: The new www.yvl.org is mobile-responsive, which means the website is compatible with desktops, laptops, and all mobile devices, like tablets and smartphones.



User-friendly Layout: Simple, user-friendly layout with intuitive navigation.
 Toggle Search: Patrons can now easily switch between searching the library website or the catalog.
 Dynamic Website Translation: The translation function offers patrons the option to translate the website into 12 different languages, including Spanish, French, and Italian.
 Updated Locations & Hours page that includes a custom Google map of all 17 library locations, their individual hours, and upcoming events by location.
 Filter Locations by Amenities: The new library locations page also offers the option to filter community libraries by amenities, such as locations with bilingual staff, private study areas, proctoring, and more.
 Thematic Pages: The new e-Resources pages allow patrons to browse for topics like Genealogy, Health, or Entertainment; in addition, these resources are also arranged in an A-Z list for easy searching.
 Dedicated Space for Special Collections: The new www.yvl.org now features a dedicated Genealogy page, where users can find local history resources, genealogy guides, and more.
 New Kids and Teens pages featuring cool resources, updates on the newest library materials for kids and teens, and helpful links for parents and caregivers.
 Library News: Featured posts on the main page will help keep patrons up to date about new materials, library alerts, events, programs, and info on new resources.
In the coming days, visitors to www.yvl.org are encouraged to submit their feedback, ideas and suggestions about the new website via a survey which will be made available online.
"Yakima Valley Libraries looks forward to sharing the new, updated website with the public," said executive director, Kim Hixson. "We're certain the fresh, new look and many enhancements will help us continue to achieve our mission of connecting people and ideas."