Book Clubs and KitKeeper FAQs
If you're in a book club, you may now request book group sets from Yakima Valley Libraries.
Each set contains eight (8) copies of the book. Reservations for the sets are managed online using the KitKeeper system. The following information will help you use this new system. Please note, "sets" and "kits" may be used interchangeably.
See detailed information below to learn more about KitKeeper. Or click the following link to go directly to KitKeeper.

Getting Started
What can I do in KitKeeper? 
KitKeeper is designed as a self-service tool so that you can conveniently browse the Library's book club set collection, reserve sets for your book group, and manage your list of reservations. 
Why can't I just reserve a book club set in the regular catalog like I do with other materials?
Our online catalog is wonderful for many things. Making sure you get a title on a particular date three months from now is not one of them. While you can search for the book club sets in the catalog, each title will have a link to take you to KitKeeper to reserve that set.
How do I access KitKeeper? 
You can access KitKeeper by clicking here.
How do I log in to KitKeeper? 
Your login is your Yakima Valley Libraries card number and password. If you don't know (or can't remember) your password, please contact your community library to re-set it. 
How do I schedule titles in KitKeeper?
KitKeeper uses a calendar to show when titles are available, similar to making a hotel or flight reservation online. When you schedule a reservation, you are selecting a pickup date, likely a few days before your group will meet and you hand out the individual copies of the book for the next month's discussion.
KitKeeper will then reserve that title for a block of time that includes travel to and from your selected pick-up community library, up to a week at your community library waiting for pickup, a five (5) week check-out period, and time for library staff to prepare the set for the next group.
Please return your set by the due date. Everyone has been inconvenienced at some point by not getting their books on time. Delivering kits to groups on time depends on every group and individual members taking responsibility to return kits on time.
How do I search for sets in KitKeeper? 
If you already know the name of the set you would like to reserve or would like to look at the sets available in a particular month, jump down to the next section. Otherwise, follows these steps to search KitKeeper:
1) From the YVL KitKeeper home page, click on the List icon outlined in red. You now have the option to search for sets by title, author or genre (fiction, nonfiction or award-winners) using the drop-down arrows to the right of each option.
2) Once you have highlighted an option, click Select.
3) From the list of search results, you have may click on "Details" for more information on a particular set or click on Reserve this Kit to see when that kit is available. (Click on the Return to Main Menu bar if you would like to start your search over.)
4) Once you have decided on your kit, you are ready to place your reservation in KitKeeper. See the next section for more complete information.
---
Reserving Kits (Step-by-Step Instructions)
Quick notes before you begin reserving…
Title Alphabetization:
In the alphabetical title list, the English language articles A, An, and The are not used for filing, so The Boys in the Boat would be found in the list under B.
Titles with Multiple Sets:
When a title has two sets, check both sets to see which has the best available date for your group. Or if you have a larger group, look for these titles and reserve both.
You are now ready to begin reserving!
1. Open the web browser of your choice. Go to the link: http://www.eventkeeper.com/kitkeeper/index.cfm?curOrg=yvl 
2. This will take you to the screen below: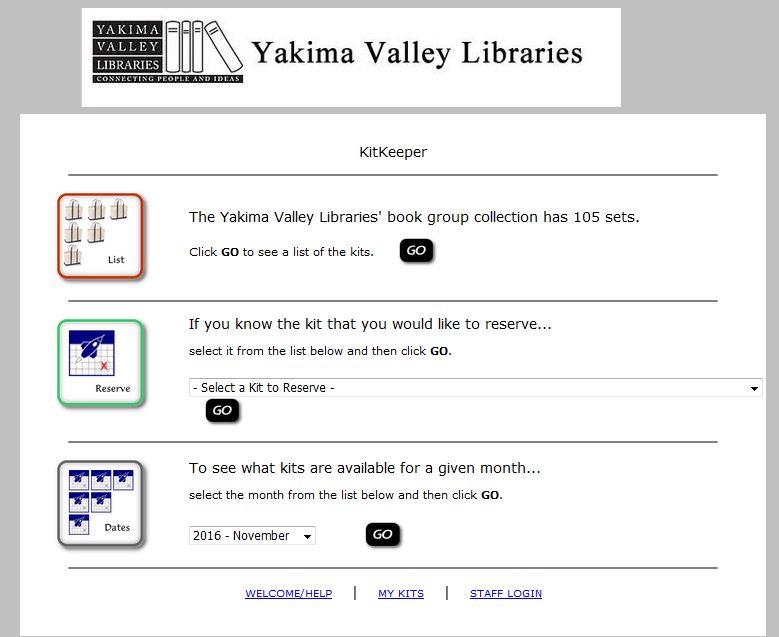 3. If you know the title(s) you want to reserve, use the drop-down menu. Note that you can also search by availability (the third option); then follow the same procedures below.
4. Select the title you want to reserve
5. Click the Go button to the right of the drop-down menu.
6. A screen similar to the one show below will appear. Scroll through the months until you find the date you want to pick up your kit. Click on the RESERVE link for that day. If you want to pick up today, you need to get your kit at the Yakima Central Library. We suggest selecting a pickup date a couple or a few days before when you will hand the books out to your group. The actual check-out period for the kit is five (5) weeks.
a. For example, if your group meets Friday the 28th, you might set your pickup day to Wednesday the 26th: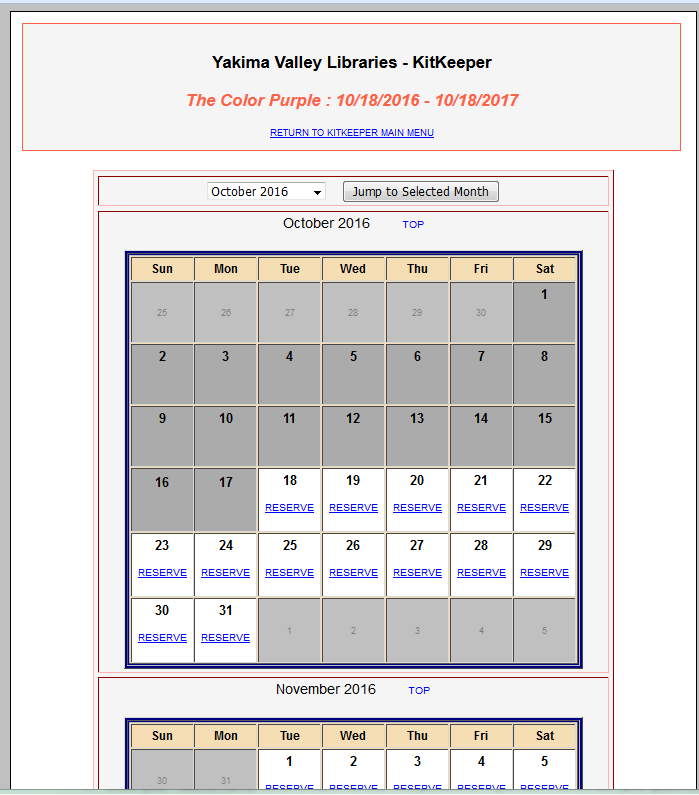 7. Enter your Yakima Valley Libraries card number and password. If you don't remember your password or it's time for your account's yearly address check, you may need to contact your community library.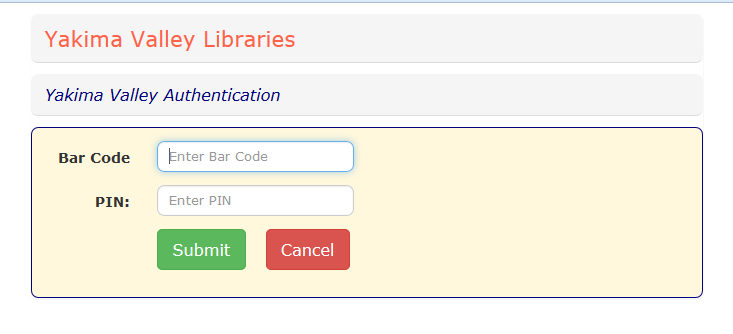 8. Click "Continue" on the verification page.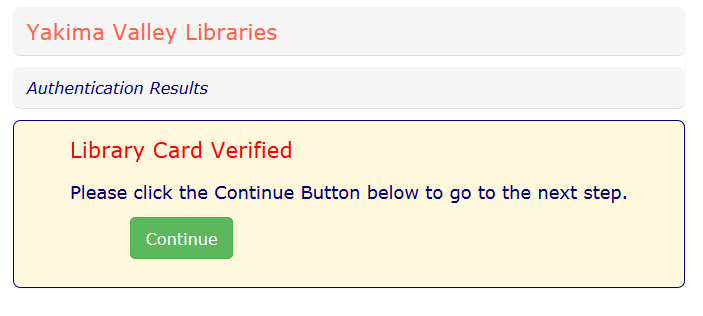 9. You should see a screen similar to the image below, but with your name, phone number, and email information filled in from your library account.  You can change the phone number and/or email address before clicking "Reserve this Kit." (It will not update information in your library account but will adjust how you're contacted when this set is ready for pick up. Click "Unavailable" if you don't have a phone or if you don't have an email address, but we do need at least one way to contact you.)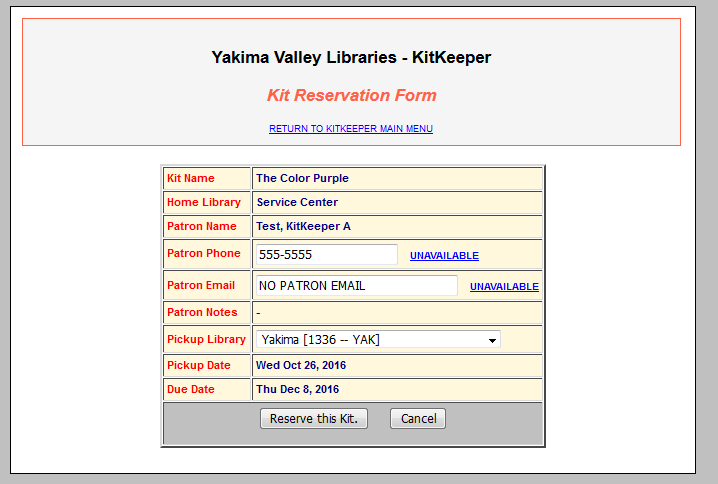 10. You should see confirmation that your reservation has been made. If you provided an email address, you will also get an email from KitKeeper with your reservation details.
11. If you want to make additional reservations at this time, please go back to Step 3. If you have completed reservations for your book club, go to the (optional) next step.
12. To verify your reservations, click on the My Kits link at the bottom of the YVL KitKeeper home page. The screen below should appear. Enter your YVL library barcode number and password. Click Submit.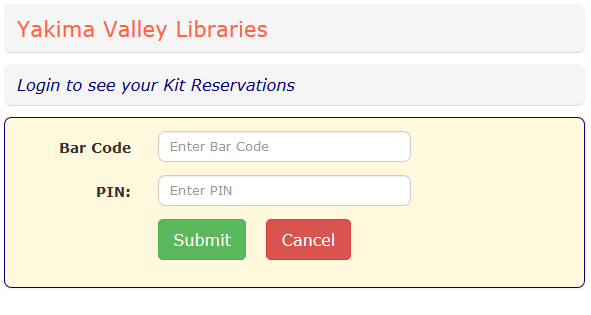 13. When you receive the message that your Library card has been verified, click on the Continue button. A screen similar to the one below should appear.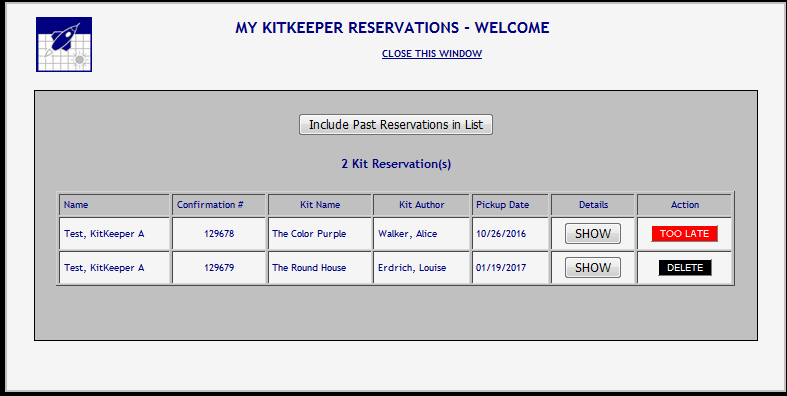 14. Verify the titles and pickup dates from your list. Use the Delete button to remove incorrect reservations, if necessary, and re-enter the correct reservations by clicking the Close This Window link and starting with Step 3 of the preceding directions. When satisfied that all reservations on this list are correct, click on the Close This Window link at the top of the page.
---
Managing Sets
When will my book group's kit be at the pickup community library?
If you have an email address in your reservation, you will receive an email message to notify you when your kit is ready for you at your pickup community library. Otherwise you will get a phone call.

What if I go to my community library and the set is not there?
Please wait for email notification that your kit is there to pick up. KitKeeper sends an email when the set is ready. 
Can I change my pickup library after I've submitted a reservation?
You will need to delete the reservation and then reserve the title again, this time with the correct pickup library. 
My kit is late. What is the status? Where is it?
For questions on the status of your kit, please check with your community library. They may need to contact the Service Center. You will need to provide your library card number and the title of the book. 
Can I substitute another title?
You can cancel a reservation until about nine (9) days before your pickup date and select a different available title by logging into KitKeeper with your library card number and password. Because each reservation includes travel time to the pick-up library (up to a week, depending on the community library), you may not be able to cancel a reservation after that. (See below.)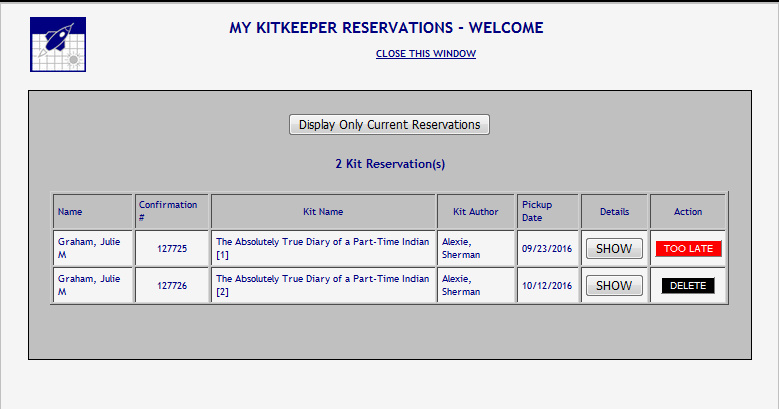 How far out can I book a set?
KitKeeper allows you to reserve titles up to 1 year out (rolling).
---
Kit Check-out and Return
Can I return a set to any community library?
Please return the kit to the community library it was checked out from, if possible. 
One member wasn't able to attend our discussion and that person still has a copy. What do I do?
If someone is unable to attend the discussion meeting and/to return the individual copy they have to you, please ask that person to drop it off as soon as possible at their community library, and library staff will reunite it with the rest of the set so it can go out to the next group. 
There was an unfortunate incident. (My dog chewed the bag with the books / A refreshing beverage was spilled on a book / Someone on vacation left a book behind.) What do I do?
If something has happened to an entire set and the set is no longer usable, the person who checked out the bag would have the financial responsibility for that set. If something happened to a single copy, the replacement cost is $10 or a new copy of the trade paperback.
This information is adapted with permission from the Seattle Public Library Book Group and KitKeeper FAQs.