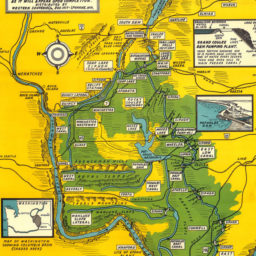 Topographic Maps
Topographic maps (also called Quadrangle maps) were created by the US Geological Survey. They are available at Yakima Central Library and can be found in the online catalog. Some of these maps can be viewed online as well, by clicking on the link provided in the catalog record.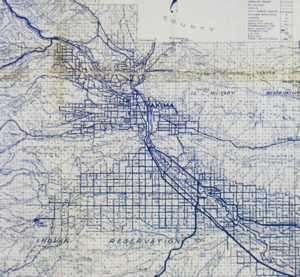 Metsker Maps
Metsker Maps are maps that show property boundaries and ownership. Yakima Valley Libraries has Metsker's atlas series begining with 1934. These maps do not check out, but are available by appointment.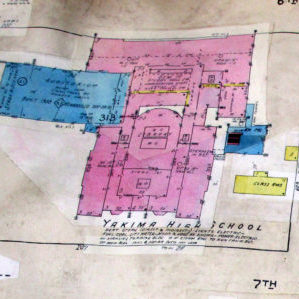 Sanborn Maps
Sanborn maps are large scale maps of urban areas. They were created  to document the fire risk associated with a particular property by showing the  size, shape, and construction details of structures on the property. Sanborn maps also indicate widths and names of streets, property boundaries, building use, and house and block numbers. The original maps were drawn at a scale of 50 feet to one inch (1:600), so they are a rich source of historical detail.
Yakima County Plat Maps
A collection of plat maps created by the Yakima County Assessor's Office, hand-drawn in ink on acetate film, primarily in the 1960s and '70s,  using the Township and Range grid developed by the Public Lands Survey System (PLSS). Because these maps pre-date computer-based GIS technologies, they provide historical data over a broader area of the county than is available from today's highly detailed GIS mapping systems. Available by appointment at Yakima Central Library.
More current interactive maps of Yakima are available online at CityMap